Developing the Future of Dodgeball with Leeds Beckett University
"We welcome Dodgeball as part of the Carnegie Coach Education programme as a great experience for Leeds Beckett Students and we look forward to developing the partnership further" - Leeds Beckett University, Carnegie Coach Education
At British Dodgeball, our mission is to work with and develop our members to reach their greatest potential within the sport, and to inspire new people from all ages, backgrounds and abilities, to enjoy playing dodgeball.
Over the 9 months since British Dodgeball set out on its journey it has grown and developed the sport of dodgeball creating pathways that will support the sport for generations to come.
One element to this we are very proud of is our coach education programme. Our Director of Development, Ben Hoyle, as well as our Head Tutor, Matt Hilliker, have used their collective experience and knowledge on sports development, to design the most comprehensive, innovative, and up-to-date courses for dodgeball throughout the United Kingdom.
Already across our courses we have seen 600+ coaches who are now qualified in varying levels within the sport, and are using that knowledge to the benefit of the masses.
On Sunday 22nd April, we were very excited to see the coming together of our working with Leeds Beckett University as Matt delivered a Level 2 Coach Education course to 16 candidates.
The Level 2 course is a theoretical and practical based course that covers:
- Dodgeball rules and game play
- Core skills
- Coaching ideas, variations and inclusive practices
- Evaluating and concluding
In completing the course, qualified candidates will be able to:
- Design and deliver dodgeball sessions
- Understand the organisational skills necessary to safely introduce and develop dodgeball to all abilities
- Coach basic individual skills and techniques to further develop players
- Understand and apply basic rules through officiating
- Adapt sessions to be inclusive and variable
- Plan and deliver coaching sessions to a group
"The opportunity for interaction with other candidates, sharing, learning new ideas was great"
The day was a huge success and we were extremely impressed with the immediate confidence and capability the candidates displayed, that only grew throughout the day. The atmosphere was a supportive and friendly one, and the venue at Leeds Beckett University was perfect for all our needs.
"I enjoyed the vast amounts of practical elements and the chance to lead sessions without being under pressure"
As the recognised National Federation for the sport, our interest is in the wealth of development that comes from partnerships with top level education institutions such as Leeds Beckett University, and we look forward to how this relationship will develop.
"It was easy to learn the rules / sport due to playing and being involved constantly. I really enjoyed it!"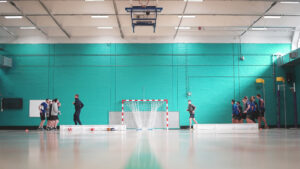 If you would like to take part in one of our Coach Education courses, across Level 1, 2, or 3, visit our site: www.britishdodgeball.org/dodgeball-coaching-courses