The sport of dodgeball has always been underpinned by a large amount of involvement with universities. Many community clubs have been born from graduates of university clubs, and across the United Kingdom, our university clubs are some of the best there is. As we move towards our second season, we are ensuring there is enough of a platform to provide top level play for our universities.
The 2018/19 season
We will have 7 men's regional university leagues taking place in:
North West: Manchester
North: Leeds
East Midlands: Leicester
West Midlands: Stafford
South: London
South West: Taunton
South Coast: Southampton
We will have 3 women's regional university leagues taking place in:
North: Manchester
Midlands: Leicester
South: London
Are You a New or Existing
University Dodgeball Club Looking to Get Involved?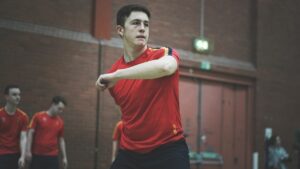 We are welcoming expressions of interest from universities to arrive with us before the end of May 2018. You do not need to have competed in University Dodgeball before. Further divisions and leagues may be possible depending on interest.
Finalising of leagues will be announced mid October 2018.
All university leagues will take place on either the Sat or Sun of the following weekends:
Round 1: 10th & 11th Nov 2018
Round 2: 1st & 2nd Dec 2018
Round 3: 26th & 27th Jan 2019
Round 4: 9th & 10th Feb 2019
Round 5: 2nd & 3rd Mar 2019
Round 6: 23rd & 24th Mar 2019
Round 7: 6th & 7th Apr 2019
Competitions
As well as the opportunity to compete in all British Dodgeball Open Competitions, the 2018/19 season will consist of the following University only competitions:
27th October 2018 - University Freshers Championship
4th November 2018 - Regional University Open
9th December 2018 - Regional University Open
17th February 2019 - Regional University Open
24th February 2019 - Regional University Open
17th March 2019 - Regional University Open
13th April 2019 - University Championships
14th April 2019 - University League Finals Day
We have seen the passion behind the sport throughout universities, and so our second season will respond to this with more events, and, hopefully, with the right interest, even more development to our leagues.
Coach Education
As part of our ongoing investment into the development of the sport, we have been creating learning pathways in partnership with key educational institutions. Last Sunday we delivered a Level 2 Coach Education course to 16 candidates with Leeds Beckett University. The support and involvement we saw from Leeds  Beckett was fantastic.
We are now very pleased to be working with the University of Nottingham, University of Birmingham, Sheffield University, Manchester Metropolitan University and Sunderland University to create similar pathways in the near future.
We are looking to work alongside more universities in order to deliver top level education with dodgeball.
If you are a university, or are attending a university that would be interested in working in partnership with us to develop dodgeball, please do get in touch.
If you would like to hear more about our recent course with Leeds Beckett, have a read of our latest article: